When flying with a dog, there are a number of things that need to be taken into consideration. This starts with finding the right crate, but it also requires meeting legal requirements and following the right procedures to ensure your dog is comfortable. The following covers the entire process of taking a dog on an airline flight.
An animal carrier is the best way to keep your pet safe when you are traveling. Even when traveling by car, keeping a dog in a carrier will prevent him from getting hurt at sudden stops and turns. When flying, the airlines require dog crates for medium and large dogs, while smaller ones can be carried on board. As the rules vary and sometimes change between airlines, always confirm before traveling.
Airline approved pet carries for smaller dogs
Many airlines allow owners of small dogs to carry their pets with them. These carriers are the size of travel bags, soft sided and have a strap. Make sure that the carrier comes with a secure lock so that the animal can't escape during your travels. The bag should also be machine washable for easy maintenance.
Each carrier has size and weight limits and must fit under the seat. To know the right size, the length of the dog should be measured from the nape of the neck (collar area) to the base of the tail. Note that the tail is not included in the measurement. The height is the measurement from the floor to the top of the shoulder.
Airline (FAA) approved dog crates
Larger dogs that do not fit into this type of carrier must travel in the cargo hold, where they store the luggage and other items being moved. This area can get cold, so plan accordingly. Crates that are airline approved will clearly state that fact in their descriptions.
As when buying any crate, make sure it is properly ventilated so your dog has enough air, and regulations require that the crate have projecting rims or spacers so that the ventilation will not be blocked. If it will be a long flight, you need the proper dog crate accessories to give your pet water, nourishment and meet other needs. Considering the likely low temperatures, you may want to include a blanket so your dog is comfortable during his travels.
Most airline approved dog crates are made from a durable plastic, although there are some that are metal or wood. Apart from meeting the dog's physical needs, the crate must offer a way to secure it so that the animal can't escape.
Certain brands have more varieties of airline crates than others. While most are bland, some manufacturers have created lines that are colorful and unique.
When purchasing a crate, you need to make sure that it is the right size for your dog. Your canine needs to be able to stand up, lie down and turn around in the crate for it to be the proper size. This requires measuring your pet.
For this type of crate, the two important measurements are from the feet to the top of the head and the nose to the tail. While a longer tail should be taken into account, only part of it should be included, unless it is a very think, hard tail. To these, add 2-4 inches (5-10 cm) to both measurements. This dog crate size guide will help in choosing the right dimensions.
Things to do and know
After checking with the airline, make sure that any requirements for health certificates, vaccinations, etc. are followed. It is also important to know the size of the crate and the total weight with the dog before checking in. In addition, consider all the following when planning the trip and before flying:
Visit the vet no more than 10 days before the trip. Most airlines require a health certification stating that your dog is healthy enough to fly. Your dog should be up-to-date on his vaccinations. This is also to ensure that your dog does not have rabies or a contagious disease that can affect other passengers. If you are traveling outside of the United States, there may be additional requirements.
Keep your dog properly identified. Make sure he is wearing a collar that includes his name and your contact information and destination. You may also want to get him microchipped in case he happens to run off.
Be prepared in case your dog gets hungry or thirsty during the flight. Freeze a small bowl of water and keep it inside the crate during the flight. You should also tape a small bag of dog food outside the crate and instruct airline employees to feed him if he gets hungry.
Avoid giving your dog tranquilizers. Although these can calm your dog, they may go to extremes and cause breathing problems and other medical conditions.
If possible, opt for a direct flight to avoid having your dog stay in the plane for too long. If the flight gets delayed, don't be afraid to ask airline workers to check on your dog.
Try to get to the airport early so you don't have to rush. This can cause extra stress for you, which your dog will pick up on.
Before putting your dog on the plane, take him for a walk and allow him to take a bathroom break if needed. This will ease your dog's stress and make him calmer during the flight.
After the flight, check on your dog as soon as you are able. Make sure that everything is fine healthwise. If there appears to be a problem, visit a vet immediately.
Additional requirements on transporting dogs on airlines can be found here.
Comfort matters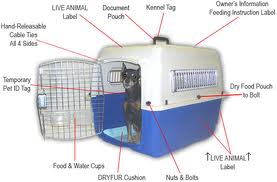 Your dog will be in the crate for a long time, and the journey may be stressful. Therefore, every effort should be made to make the trip as enjoyable as possible by giving your pet as many of the comforts of home as practical. Keep in mind that the stress may make the dog have an accident while in the carrier. It is a good idea to have crate toys, dog crate pads and make sure everything is washable.
Dogs are a part of a family, and many want to include them in vacation plans. If those plans include flying, make sure you are prepared. Purchase an airline approved dog crate and follow the guidelines above. To help your dog accept traveling in the crate, make it as comfortable as possible and everyone will feel better.