If you have an interest in animals, you may want to become a dog trainer. However, you may have no idea what this occupation entails. While there are famous dog trainers and animal behaviorists out there with their own television shows, the way one enters this profession isn't as well known.
College degree?
There are no college degrees for dog training, but there are courses you can take that will help you in your career as a trainer. Courses in veterinary medicine, behavior, or ethology will be beneficial, as well as any general business courses. As many dog trainers are self-employed, business courses may help you advertise and run your business.
Some dog trainers earn a veterinary technician degree. This associates degree offers the veterinary sciences background that is beneficial for this field, without investing the six years it would take to earn a degree in veterinary medicine.
What about certification?
There are courses that say they offer dog-training certification. The only national certification available is the National Certification for Professional Dog Trainers. They are approved by the Institute for Crediting Excellence and are continually updating their courses to reflect current standards in the industry.
If you choose to work with another institute, research their credibility and the courses they offer. Some classes are designed to take your money and not prepare you adequately for your new career. Make sure any program you sign up for offer classes that include dog behavior, information on designing a training program, animal learning, and a background on dog training techniques.
On the job training?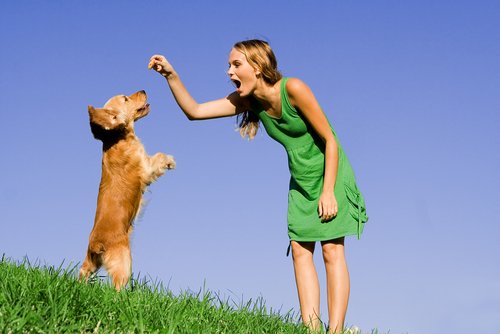 Many people who want to become dog trainers prefer on the job training to hitting the books. You can gain experience in this field by working with other dog trainers, veterinarians or in an animal shelter. This way you will learn to work with dogs with different temperaments and different backgrounds, and not all of them will be well behaved.
In an animal shelter, some animals are nervous or aggressive because they were mistreated or neglected by their former owners. They need time, patience, and continuous exposure to training techniques to change some of their negative behavior into positive behavior. Experience working with troubled animals will help you work with owners who need help working with their dogs.
Additional skills?
When you are a dog trainer, you are not working only with animals. The main purpose of your job is to teach humans how to improve their relationship with their dogs. Some people who enlist the services of a trainer are first-time dog owners, while others are having problems training their dogs. The dogs may be barking a lot, not listening to commands, or displaying aggressive behavior.
Training techniques improve the owner's behavior as well as that of their canine companion. Sometimes the owners may be giving conflicting commands or their body language sends different signals to their pets. Teaching people how to be firm, consistent, and loving toward their dogs is as important as making sure the dogs will sit, stay, and speak on command.
It is also important to stay current with information in the field of animal behavior. As scientists learn more about animals and their behavior in the wild, animal behaviorists learn different ways to help train domestic animals. Positive behavior techniques, such as clicker training, have recently revolutionized the dog-training field. Keeping abreast of these new techniques will help make sure you offer the best services to your human and canine clients.
If you want to become a dog trainer, there are different ways you can learn about this occupation. For those who like to find formal training programs, there are college courses available, although there isn't a formal degree. Certification programs are available; although you will need to make sure that the program you choose has a valid reputation. Learning on the job is the path many dog trainers take, as it offers the opportunity to receive hands-on experience working with dogs of different temperaments. Whichever path you chose, make sure you understand your human and canine clients to offer the best services possible.
Additional resources:
If you want more information regarding certification for dog trainers, visit the National Certification for Professional Dog Trainers website. You can also visit the Association of Pet Dog Trainers.