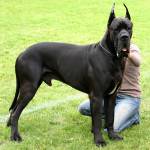 When it comes to getting a dog crate, it is very important that you consider the size of your dog. You want to make sure that they can fit and move around in the crate, as it will make your life a lot easier when it comes to crate training. In addition, if the dog doesn't fit in the crate, they will be uncomfortable and anxious, leading to crying and pain which conditions the dog to hate dog crates altogether. Something you don't want when you've just sunk hundreds of dollars in one of the best dog crates.
One area that struggles with dog crate sizing is larger breeds, like Great Danes. We have already discussed dog crates for larger dog breeds in another article so, in this one, we will be looking at a specific breed (and a personal favorite of mine) – the Great Dane. The Great Dane is a huge breed and is currently holding the record for the largest dog in the world. They can grow to enormous sizes and this makes it difficult to buy accessories for them, like dog beds, collars and (of course) dog crates. It is important that you get a dog crate that suits your Great Dane otherwise you and your dog will suffer in the long run.
To help you out when it comes to finding a dog crate for your Great Dane, this article will be going through the 5 best dog crates for Great Danes in 2017, so you don't make the mistake of buying one that doesn't fit. These dog crates are a little more expensive than other crates purely for their size, so keep that in mind when reading. If you're curious to learn more about these dog crates, continue to read the article.
MidWest iCrate Double-Door Folding Crate
This dog crate is perfect for a Great Dane as it goes all the way up to XL standard – 48 inches. Midwest is going to be heavily featured on this list as they are one of the best brands available when it comes to dog crates and, more specifically, dog crates for larger dogs (like Great Danes). The iCrate Double-Door Crate is one of the best options if you have a Great Dane and has some impressive features.
As it is made from wire, the crate is very strong and can withstand the force of a Great Dane if they decide they're going to break out. Because the crate is made from wire, it is not only strong but also light enough to be transported around the home. As the name suggests, this dog crate is also completely foldable, so you can fold it up and store it very easily. For added protection, the dog crate has two large sliding bolts that secure the doors, making sure your Great Dane cannot get out. This crate is a cheaper option on this list and is a great option if you want to contain your larger dog.
MidWest 1548 iCrate Single-Door Crate
Midwest is coming in again with another quality wired dog crate and it is no surprise why. The 1548 iCrate is another addition of the double-door crate featured above but, as the name suggests, the crate only has one door. However, there is a double-door design if you'd prefer to have to entrance points, which is useful if you plan on taking the crate in the car.
The single-door iCrate shares many of the benefits of the Double-Door crate in terms of strength and mobility. The crate, again, is made from wire and is very strong, allowing it to take the force of a Great Dane who might get a bit excited in the crate. This crate can also be folded down making it great for storage and has the sliding bolts Midwest uses to make sure dogs don't escape. The crate is easier to put up than the double-door and this might be one of the main reasons owners choose this over other crate styles.
Pro Select Empire Cage
If you're looking for a tough crate that will be able to stop your Great Dane from running loose, the Pro Select Empire Cage is perfect. This is not a wired crate like the others featured on this list, as it is made from high-quality steel. This dog crate is designed for more aggressive dogs so if your Great Dane has a bit of a temper, this might make an excellent accessory.
To add to the crate's strength, Pro Select has reinforced the pressure points with additional welding, so if your Great Dane has an outburst they won't be able to break the walls. As an added measure of security, the Empire Cage has a stout dual locking feature, making sure that even the craftiest of Great Danes can't get out. This is one of the strongest crates around and if you're looking for strength, the Empire crate is an excellent choice.
"Ginormous" Double Door Dog Crate – The Best Overall
This is my favorite crate overall and it is specifically built to house a Great Dane. Just like many of the best Great Dane crates on this list, this one is also made by Midwest. As you can imagine, this crate is also made from wire, giving it strength, durability, and a lightweight build. The Ginormous Crate is also completely foldable despite its size, allowing it to be stored easily and quickly with little hassle.
As well as having the standard Midwest features, this large crate is designed for an 80.2-pound dog and has two doors for easy access. The crate also comes with a removable pan for cleaning up any fir and mess and it comes with a 1-year warranty if it doesn't function properly. However, because of the crate's size, it will require two people for assembly but this isn't a huge issue.
Precision Pet Two-Door Great Crate
Precision has only been featured once on this list but don't be fooled as they are an exceptional brand that needs recognition. They produce some high-quality crates that are loved around the nation and some of these crates are excellent for Great Danes. Let's take their Two-Door Great Crate, as this allows for dogs up to 48", suiting the majority of Great Danes.
The Precision Great Crate is made from wire that is coated with a material that stops it rusting with age and the wire, in general, is incredibly strong despite its thinness. The crate is also unique for having 5 different lock points, making sure that your Great Dane stays inside the crate at all times. The crate also comes with a replaceable pan for cleaning and comes with a divider for pups who will grow to be gigantic dogs. A useful crate is you have had issues with Midwest in the past.
Summing it all up
Great Danes are massive dogs and sometimes it can be difficult to find a crate for them, especially if your Great Dane is largest than normal. It is important to get a crate that fits otherwise your dog could reject the crate altogether, which would be a massive waste of an investment. Great Danes will need an XL crate to enable a comfortable fit and you can refer to our guide if you need further guidance.