Collapsible dog crates offer certain advantages for pet owners. They are easy to put up and take down, usually lightweight, and make traveling with one's canine companion more pleasant.
Great option for traveling
People who travel with their dogs will find a wide variety of options regarding types of crates to make a trip easier. Collapsible dog crates fold down for easy storage, set up quickly and fit well inside most vehicles. These portable types of crates are often made of durable plastic or sturdy wire mesh; some are hard-sided while others are made or more pliable material, such as nylon. Collapsible dog crates come in different sizes, from small to extra-large; the soft-sided crates can be found in a variety of colors and coverings, making the crate more stylish.
Other advantages of collapsible crates
These crates store easily when not in use and are readily put together by "snapping" elements in place to lock the sides and back of the crate. No tools are usually needed. Oftentimes a metal gate is used as the front of the crate. Some styles even have mesh windows and flaps that can be hung down or rolled up, depending on the type of weather, serving as a shade from the sun, for example. These components have ventilation. Some collapsible dog crates come with feeding dishes that attach to the gated front.
Why crate?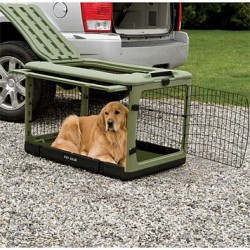 Collapsible dog crates, either used at home or in the car, create a safe resting area. A crate serves as a dog's place of sanctuary and rest. Crates can also be used when a dog is recuperating from an injury, and a collapsible dog crate with its ease of set up and taking down, makes a nice temporary sanctuary for a dog while it's at home.
Additionally, keeping your dog confined while traveling in the car is not only for your dog's safety, but also for your own and that of your passengers. Dogs that are not restrained with a dog crate or with a harness can cause distractions for the driver and can be more readily injured during a car accident.
Examples of collapsible dog crates
The Midwest iCrate Double-Door is a folding metal dog crate called the iCrate. This collapsible dog crate features two doors, allowing greater access to one's pet. A slide bolt offers improved safety and security, and handles provide ease of carry. No tools are required and the crate sets up easily. Good for travel or home, this crate comes in a variety of sizes and is available through Amazon.
One reviewer says, "Got this to travel with Great Dane puppy. Set up and broke down very easily, especially considering my all thumbs approach to such items. Could easily be carried by one adult to the car. Did not attempt to use it along the way – remained folded during trip. But set up very nicely at the destination."
The Remington Soft-Sided Collapsible Kennel is a soft-sided collapsible dog crate. This product features a door on the front and another on the top. It also features rollup windows and a soft, washable mat. It comes in a variety of sizes for various dog breeds. One reviewer says of this product, "This is very easy to set up and take down" while another notes, "The construction is very good – solid." The Remington Soft-sided Collapsible Kennel is also available on Amazon.
Crates are very important so it is vital research the variety of options to see what will work best for the pet and situation.
Collapsible dog crates offer many advantages for owners, particularly those that travel with their dog by car. The primary benefit is the ease of putting up a crate and taking it down again. Use them to keep your dog safer in the car or provide a sanctuary at home.