Dog crate pads and mats are wonderful items to add to dog crates. Crate pads provide comfort for one's dog while it is sleeping or sitting inside the crate. Their ease of cleaning and other benefits make them something every dog owner should consider.
Puppy training
Those who have ever had a puppy that needed crate training knows this can be an exciting yet bothersome time of one's life. There is much work involved in crate training puppies, but the result far outweighs the time and trouble experienced during the crate training process. Puppies require housebreaking, which is where disposable dog crate pads will come in handy. Puppies are going to have "accidents" which is why these pads are priceless. When the puppies have their "accidents," owners can merely take the pad out of the dog crate and replace it with a fresh new one.
There are other aspects of crate training, which are important outside of house breaking a dog. Crate training is necessary to allow a dog to "den." Denning is a natural instinct for dogs, and this will allow them to feel comfortable and secure their crates. Crating a dog is not a cruel thing to do. It is far worse to allow a dog to wreak havoc in a home (they will do this if allowed) which can result in forming bad habits that force an owner to take more drastic action.
What most dog crate pads offer
Most dog crate pads have the following characteristics that make them ideal for training and keeping everything clean. They include:
A scientific treatment that encourages a dog to use the pad
Various sizes to match any dog
A plastic backing to protect the floor
Oder neutralizers
High absorbency that converts the liquid to a gel and keeps urine locked in place.
Softness that will provide comfort to a pet
The design of the pads means they can be used outside the crate as well where they are also useful and comfortable. Just place the pads in a corner of a home to give the dog a favorite place to sleep outside of the crate during the day. These pads not only prove useful with crates but helpful in other activities.
Dog crate mats
To provide comfort to housebroken dogs, particularly older dogs experiencing arthritis and soreness, dog crate mats are in order. Dogs will appreciate a soft familiar mat, and they can be rolled up and taken anywhere. Within the home, they can be used to keep furniture and other places the dog likes the lie down clean.
Some things to consider when buying a dog crate mat
The mat should cover the whole bottom of the crate so that the dog does not roll off it. Since they come in different materials, from those with a spongy surface to those that are more pillow-like or thin, try to choose something your dog loves. The mat should also have a no-skid backing to keep it in place.
Designs and colors can be chosen to match the home or crate, and most are machine washable to keep maintenance cheap and easy. Those traveling with the mat may want one that can easily be rolled up.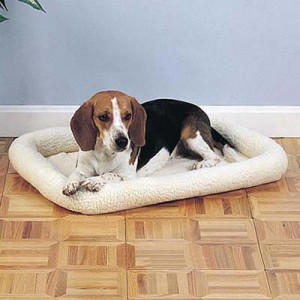 However, there is no reason to stop with dog crate pads when providing comfort to a dog. Pillows, blankets, toys and other dog crate accessories can be added along with the pad when ensuring the comfort of one's dog.
It is highly recommended that the blanket which is placed inside the dog crate have the owners smell on it. This will aid the dog in having something familiar inside the crate. Just take an old somewhat dirty (no stains) blanket that the dog has utilized to bring comfort to him.
Regardless of exactly what is used, dog crate pads and mats make it easier on both the dog and the owner. They provide comfort, cleanliness and ease of maintenance that is much more difficult to come by without them.