The following complete guide to dog crate sizes has been put together to help you determine what size dog crate will be best for crating your dog. In general, you will want to make sure that your dog can completely stand up inside of the dog crate. Your dog should also be able to lie down and turn around comfortably inside of the crate.
A Quick Note on Choosing Dog Crate Sizes
Most dog crate size guides will simply provide you with a list of breeds that are best suited for a particular sized crate. The specific crate dimensions for the various sizes, weight recommendations, breed recommendations and also some general information about dog crate sizing have been provided at the bottom of the page to allow you to make an educated decision for yourself. However, even if you see your dog breed listed for a particular dog crate, you should still take the other information into consideration because every dog is different. You will find further measuring advice after the sizing chart below. The sizes are for adult dogs, but there are options to manage growing puppies.
Sizing Guide
Measuring for Just the Right Dog Crate Size
The two most important dog crate dimensions you want to pay attention to are the height (H) and length (L). The width is not needed as this will come naturally with the right height and length. For dogs that are full grown, take a moment to measure them as follows:
1.) Find the height from the bottom of the front feet to the top of the head. Only include the ears for breeds that have erect ears.
2.) Measure how long they are from their nose to their tail. If your dog has a really long tail, you do not have to include the entire length, but you should account for some of it. For really thick, hard tails, you should measure more of the tail, or else it will whack on the cage every time they wag their tail.
If you do not have a full-grown dog, you should find out how big the dog breed gets and use those measurements.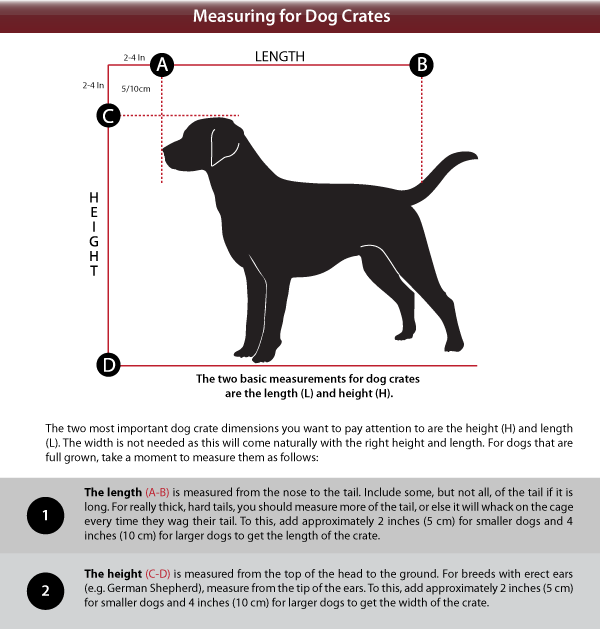 Once you have your dog's height and length, depending on the size of the dog, add 2-4 inches (5-10 cm) to the height and the same to the length, or roughly 10%. Generally, add closer to 2 inches (5 cm) for smaller sized dogs and 4 inches (10 cm) for larger ones. Some people recommend adding 6 inches (15 cm).
These should be the minimum height and length measurements for the pet crates you buy. You should try not to go too far above those numbers either or else the dog will have too much room, and it may not be an effective crate training environment (since dogs are much more likely to relieve themselves in a crate with extra space).
Take Advantage of Dividers for Puppies
These measurements are for fully grown dogs. With the Midwest and some of the other dog crates recommended here, it is possible to start with a larger crate that the puppy can grow into. This is because they all come with a free divider panel that will allow you to restrict the living area of the cage.
Other Factors
The size of dog crate that you get for your dog will be determined by a variety of factors such as the purpose of the crate as well as the size of your dog. Take a look at how these factors can influence your choice of dog crate size and what is the best way to go about finding the right fit for your dog.
Traveling
If you travel a lot with your dog, either by road or by air, the dog crate size you choose will be required to meet some standards. Airline standards dictate that for a dog crate to be used for air travel, it must be tall enough to allow your dog to stand in a natural position without any part of its head touching the roof. In addition to that, there must be adequate room for your dog to move around and it should be able to sit and stretch without being forced to curl up inside the crate due to lack of space.
The dog crate size needs to be comfortable and it should be small in a way that avoids your dog from getting thrown about during stops and collisions. If you own a big crate for use in the indoors, you should get a smaller crate for traveling purposes.
Age of Your Dog
Age is an important consideration for both dog care as well as when choosing a suitable pet crate. For young puppies and dogs that are still undergoing house training, it is imperative that you get them a crate that allows movement while restricting allowance of extra space that can be used for relieving themselves. Considerations for puppy care are going to be different than caring for aging dogs. For older dogs that are potty trained, you can give them extra space as they will not think of using the extra space for bowel movements. However, the extra space should not be so much that it makes them feel lonely inside the crate. At this stage it is mostly about pet care and your dogs health, rather than potty training. That being said, some aging dogs do develop bladder issues as they age. Still, focus should remain primarily on comfort, such as a dog bed or a dog crate cover for privacy.
Crate Dimensions and Sizes
Different dog crate manufacturers offer different ranges in sizes that differ in inches. The sizes available in the market include extra small, small, medium, large, extra-large, XXL and giant. Not all ranges have the options of extra small and giant and you can find that a large crate by one manufacturer can fit a giant dog. Crates stipulate what breeds are suitable for the given type of crate. Before getting a dog crate, get your dog's measurements to help you in choosing a good crate size.
We have outlined the outside crate dimensions of dog crates in the market below and it is important that you note that these crate dimensions are for the outer surface and as such, the inner crate area will be slightly smaller. Please make adjustments accordingly.
Dog Training
There are many training tools that owners can use such as dog food, clickers for clicker training, or using a crate accessory such as crate covers, which provides privacy with the added benefit of containing pet hair in one area. It is important to consider how your dog behaves in the crate when determining which material it should be made out of. A docile, obedient pet opens up the options, whereas a chewer or ripper will require consideration of more robust options.
Type of Crate
You can get a plastic crate such as an air approved kennel, or Midwest dog crates made from sturdy metal wire, a softsided crate such as a pet carrier, or an aluminum dog crate for the Houdini dogs that like to chew.
Wire Dog Crates
The three different types of dog crates available from Midwest that are particularly useful: Life Stages, iCrate and Select are the most highly recommended. Life Stages dog crates generally provide more height and width for your dog, while the iCrate and Select dog crates have less. The iCrate and Select series can be excellent dog crates for crate training, puppies and traveling. The Life Stages dog crates are great crates that you can use through the entire lifespan of your dog: from puppy to adult.
All the crates have metal wires, and divider panels that will allow you to change the living area of the cage to adjust to the size of your dog. There are also single door and double door options for most of the crate sizes, with some offering the triple door option. If you want the most affordable wire dog crates, you should look at the single door folding dog crate.
Plastic Dog Crates
Plastic crates are also called kennels and carriers. They have a hard plastic shell and typically have vents and a gated wire door in the front. Examples are the Petmate Sky Kennel, Petmate Vari Kennel, and the Midwest Spree, and Midwest Skudo carriers. Many models are airline approved for domestic (and some international) flights, although policies change frequently with individual airlines so it is best to double check their requirements before buying. It is helpful to look for "IATA approved" in the product description.
Aluminum Dog Crates
These crates are rugged, yet lightweight models that provide peace of mind to their owners. Dogs that are chewers or rippers will meet their match when they are provided this crate, which helps reduce distractions and allows everyone to focus on training. Examples include Impact dog crates and Zinger Winger dog crates.
Soft Sided Crates
Soft sides dog crates are mainly carriers that double as crates. The smaller versions can be easily carried with your dog inside of it, while even the larger ones can be toted from home to car, or car to event, and easily set up or put away for convenient storage. Durability is important with soft sided crates, as the level of wear and tear varies with a dog's temperament and size. Examples include the Sherpa product line, the Midwest Sportable soft dog crate, the Nature's Miracle Port-a-Crate, and the Elitefield 3 door soft dog crate.
Small dogs are typically well suited to these types of crates. Medium to large dogs will be okay, as well as the transitions when moving the crate are managed appropriately. If the crate is meant to stay in one place, this becomes a non-issue. Finally, if the dog is a chewer, these are not the most suitable crates.
Using the Above Dog Crate Sizes Guide
Make sure to study the dog crate size guide above to get specific information about the various sizes of dog crates. When you think you have found the right dog crate size based on dog height, weight or breed information, simply click on the title or the picture of the dog shown with that size. After that, you will get to see some specific dog crates for that particular size.
We strive to provide up to date information on dog crates and training. We hope that we have been able to help you with this quick reference guide to Dog Crate Sizes.