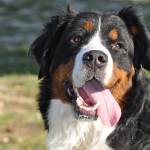 Getting a dog crate is a fantastic idea and will come with a ton of benefits to you and your dog. They come in all different shapes and sizes and it is important to get the right crate for the right dogs. Getting one that is too small or too big can make the purchase useless and a big waste of money. I put emphasis on the "big" as dog crates are not cheap objects and they can cost a pretty penny. This is why, when choosing a dog crate, you need to consider the size of your dog, as some crates will be better suited to particular breeds.
It is even more important to consider this factor when you have a larger breed. This is because, if you get a crate that is too small your dog may completely reject the crate no matter how hard to try to condition them to like it. Make sure you always measure your dog before purchase to avoid this problem. In addition, picking the right crate for your larger breed is important and will solve a lot of early headaches. There are a number of crates that will benefit your larger breed, allowing them to move around comfortably.
That is exactly what this article will be focusing on. We will be going through the best dog crates for larger breeds to save you the wasted research and trial and error, which can be very expensive. A lot of the crates on this list are going to be wired because they provide superior ventilation. If you're looking for a crate for your larger dog, continue to read this article.
The Top 5 Dog Crates for Larger Breeds
Although there are many different brands and crates on the market, we have narrowed the list down to just 5, so you don't have to make a decision between too many choices. We have done the research and made sure that the crates in the list are high-quality and suitable for even the largest of dogs. Anyway, I'm rambling, so without further ado, here are the best dog crates for larger breeds.
First on the list is a soft-sided dog crate by Noz2Noz. They are a lesser known brand in the pet crate space but they have shown us that they can provide and produce some high-quality dog crates. This crate, in particular, can hold a 90-pound dog and can be bought with a maximum size of 42", allowing it to carry just about any breed. As the crate is soft-sided, it can be transported and moved around the house easily and it can be used both indoors and outdoors. The crate has rounded corners to protected surrounding furniture and can be put up in seconds. The crate is also well ventilated and is secure enough to stop your larger dog from escaping or chewing their way through. In general, this is an excellent crate for larger dogs.
Midwest is a fantastic brand that produces a number of high-quality wired dog crates. Wired dog crates are always a favorite when it comes to larger breeds, as they can come in very large sizes and they're ventilated, providing your dog with plenty of air. The iCrate is no exception. This crate can be purchased all the way up to 48" and can be folded down for easy transport and storage. Because this is a wired crate, it offers excellent security with a lightweight frame, allowing you to move it around the house easily. It comes with a divider for puppies and a secure latch to prevent the more craft dogs from escaping. A great crate if you have an XL dog breed.
Again, like Midwest, ASPEN is a fantastic brand when it comes to dog crates. They provide consistent, high-quality plastic crates suitable for all occasions and situations. Their plastic crates are strong, durable and can be used for airline flight is that is what you're after with your new dog crate. The Pet Porter Kennel can be bought to hold up to 125 pounds, so it is suitable for all dog sizes and it comes in both dark grey and light grey designs. The crate is light enough to be carried around the home as well as the airport but it strong enough to contain even the largest of dogs. As already mentioned, it meets IATA airline requirements and comes with a 1-year warranty.
Coming in the fourth position is Precision's dog crate. They are a top brand when it comes to wired pet crates. Admittedly, they are not on par with Midwest but they are still a fantastic brand to buy from when you're looking for quality. Their Double Door crate is an excellent choice if you have a larger breed. It can be purchased for dogs who require 42" crates and (as the name suggests) has two entrance points to make things easier for your pet. As the crate is made from wire it is both lightweight and strong, offering your dog plenty of ventilation in the process. The crate has also be coated with a rust-resistant material and includes a divider for pups, which can be very useful and will save you money in the long-run.
For the final entry on this list, we have a product directly from Amazon. The AmazonBasics Folding Crate is an excellent choice when it comes to crates for larger breeds and Amazon has definitely thought this crate through. The can be purchased up to a maximum of 48", which is huge and suitable for XL breeds like Great Danes! This crate is also composed of wired, again, making it strong, durable but lightweight. This is useful when it comes to transport and movement around the home. However, you won't need to pick this crate up to carry it as it can be folded down for easy storage. The crate also has two doors and has tight dividers to prevent paws from falling through. A great crate if you're looking for a bargain.
Summing it up
Getting a crate is sized right for your dog is incredibly important. If you get one that is too small, they will hate their new home and will reject its use immediately. This is truer when you have larger breeds and many owners will not consider the size of their dog before purchase. If you have a larger dog, make sure that you are buying them a crate that will accompany their size. We have done the research already and have supplied you with 5 crates you can use for larger breeds. Use the list wisely and, with it, your larger dog will have no problems adjusting to their new crate.