You love your pet, and you want to keep him safe. Allowing your dog to play outside unattended can lead to dangerous situations, and if you leave them on a tie out, they can hurt themselves. There are also times indoors when you need to keep your pet out of the way to keep him from being hurt. A dog play pen is a good way to keep your dog corralled and out of harm's way indoors or outdoors.
Different types
There are different types of play pens available for dogs. Vinyl, metal, wire, and wood pens come in many sizes for dogs from small to large. Some of these play pens are sold in panels, which allow for flexibility. This is a great option for owners who have a growing puppy, or odd shaped rooms. Other pens come with a top, to keep the sun and weather out while allowing your dog to enjoy some time outside.
Indoor use
There are times when a puppy or adult dog is better off kept in one area. If there are many strangers in your home for a party, your dog may be stressed. A dog play pen can give dogs a safe haven away from people they do not know, and keep them from being underfoot where they can get hurt.
For puppies, it is important to watch them as you would a small child. A young dog can get into mischief quickly, even if you only take your eyes off him for a moment. If you are going to be busy and won't be able to watch your puppy, a play pen is a safe alternative to keep him out of trouble.
Outdoor use
People who don't have a fenced-in yard need to monitor their pets closely when they are outside. Even dogs that are well behaved can become distracted and stray off your property. It is not advised to keep your puppy on a tie out without proper supervision. Your young dog can tangle the lead or even escape if they manage to shed their collar.
A play pen or exercise pen will give your pet the ability to stay outdoors even if you are busy. Dogs love to be outside, but owners can't always spend their day playing outside with their furry companion. The ability to leave your pet in a pen allows you to give your friend some fresh air if you can't be out there with him the whole time.
Good use
Play pens for dogs have many benefits. Many of them are portable, allowing you the ability to take your companion while visiting family, to the park, and even on vacation. Most of these pens are collapsible, lightweight, and come with a travel bag to make transport easier.
There are some factors to keep in mind, however, when purchasing a dog play pen. One factor is size. If you have a medium or large dog, you want to make sure your dog has enough room and can't jump out of it. You also need to make sure that the material is sturdy. Some dogs are more exuberant than others are, and you want to make sure that they are not able to break the pen and get hurt.
You want to consider the location of the pen if you are placing it outdoors. If possible, a shaded area will keep your dog from being overheated in the summer. Ground stakes are provided for most pens, but make sure that you place the pen on level ground so the dog can't tip it, accidentally or on purpose.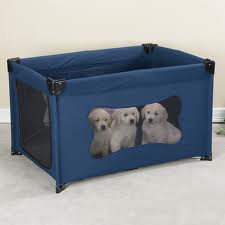 If your dog is going to be in the pen for a long time, you will want to make sure you place food and water in the pen. Some play pens have the ability to clip a bow to the side our place a water bottle in the pen. A water bottle is beneficial because it will keep the puppy from tipping or spilling their water.
You will want to make sure that your dog has some room to play, and you will want to place some toys in the pen, and perhaps a blanket. If your dog gets bored, they may try to chew or scratch at the pen, breaking the pen or hurting him.
A dog play pen is a good way to keep your puppy from harm when they are in a stressful situation or unsupervised. There are different varieties available, so make sure that you buy one that is right for the size and personality of your dog. You may want to consult your family veterinarian and carefully read reviews before deciding on the best dog play pen.