When it comes to training your dog, there are many different methods. If you are a first-time dog owner, you may want to be able to seek the opinion of a professional and gain feedback when things don't go as planned. A dog training school is a great way to learn more about your furry friend and how to teach them the manners they need to learn. However, which type of dog training school is right for you will depend on your time, learning style and financial situation.
Online or Offline?
With the Internet, there are many schools that offer online dog training courses. With all the technological advancements that have been made, it is possible to re-create a real-time learning environment in the virtual world. With video training sessions, online forums, and video cameras, it is not always necessary to leave the comfort of your home to receive training lessons. In fact, with all the benefits online courses offer, why go to a physical school?
Whether or not you want to search for an online or offline dog training school is a matter of personal preference. If you want your dog to socialize with other dogs, have immediate feedback to your questions, and someone to critique your performance while you are learning new commands, then brick and mortar schools are for you. If you prefer to learn at your own pace, have a hyperactive animal you want under control before you socialize, or have a strange schedule, online schools may be the better option.
Another consideration is cost. Local dog training academies typically cost $50 or more per session, while internet raining lessons could cost the same amount or less for the entire course. The personalized attention you receive during a session at a regular school is often more than worth the expense, and by the end of the course, you will know you and your dog have learned the basics. So cost shouldn't be a major factor unless it is a matter of affordability.
Training Methods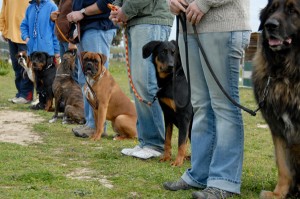 The training methods at training schools vary as well. Some use verbal commands, others use hand signals, and still others use a combination of commands. There is also clicker training, where a device is used that makes a sound to encourage the dog's good behavior. This method is gaining popularity, as it is a way to train animals without touching them.
There are also schools that use praise or praise combined with treats for positive reinforcement. Some schools use a domination approach, while others are more into encouragement. Dog training methods evolve over time as new techniques are introduced and animal behaviorists learn more about dogs and their behavior.
It is beneficial to learn more about the different techniques and determine which approach you want to use before searching for dog training schools. This way, you can find the school, offline or online, that teaches the method you want to use with your pet. First time dog owners are also going to look for a comprehensive training course that includes pet care, grooming tips and first aid for your lifetime companion.
Do Background Checks
Whether the school you use is an internet based or local, you need to do thorough background checks. Research the owners and trainers at the school to make sure they are qualified to help you train your dog. Internet research and calling references will help you determine how successful the methods these schools teach really are. Asking on online dog training forums is also a slick way to find a training course. Other dog owners are more than happy to share experiences, good or bad, they may have had when learning to train their dog.
If you are looking at a local trainer, attending a session is a good way to determine if this course is for you. Most schools allow owners to sit in on one session for free. While at the session, note how the other owners and dogs are reacting to the training. Is there a lot of confusion because the trainer can't maintain control? Does it feel like you stepped into doggy boot camp? The atmosphere should be relaxed so owner and pet can learn their lessons effectively. The trainer should also give each pair some attention during the course of the session so that canine and human know how they are doing.
If you are looking at an online course, you still might be able to find a free lesson to review first. Many internet sites offer freebies to entice people, and dog training sites are no exception. They may offer some free problem solving techniques, like how to get your puppy to stop barking. In addition, they may offer one or two free sessions on YouTube as a way to market their services. This is another great way to try before you buy.
With all the great dog training methods available, the one thing you do not have to skimp on is quality. Whether you choose to visit a local dog training school or go to an online course in your pajamas, you can find reputable trainers that offer solid tips and friendly advice. Then you can wear your slippers when you are downloading the next lesson, instead of having them chewed on by your puppy while you are at your desk.