It is recommended that puppies stay with their mother and litter mates until they reach at least eight weeks of age. In fact, the law even requires it in some states. This is because puppies learn many social skills and behaviors by being around their brothers and sisters. Taking puppies away from their litter mates when they are too young can cause them to become insecure and whine constantly.
Tips for better advertising
If you have bred dogs before, you may already have referrals lined up from word of mouth or from previous litters. However, if you are brand new to the concept of dog breeding, finding homes for your puppies may be a bit more difficult. This will be especially true if you are selling the puppies for a large amount of money. Free puppies tend to go faster than those that cost a few hundred dollars or more.
You will want to start the advertising process when the puppies are about six weeks old. This gives people time to look at the puppies and make a decision. You don't want to be stuck with the puppies for too long because the older they get the harder it is to sell them.
There are many avenues for advertising. It is advisable to advertise in a local newspaper. You can typically do the process online. You can choose how long you would like to run the ad (two weeks is a good start). You may also have the option to add photos. You definitely should take advantage of this option. Buyers are more likely to choose puppies that they can see in a photo first before driving a long distance. You should aim for close-up photos that accentuate the puppies' features.
Next, you will want to include as much information about the puppies as possible. If they are AKC registered and the parents have been health tested, this is important information that should be included. If the puppies have had health checks and first shots, this should be mentioned as well. You should also include a description of the puppies' physical and behavioral attributes. If they get along well with children, cats and other dogs, this is an important attribute that should be mentioned, as many prospective dog owners have children or other animals.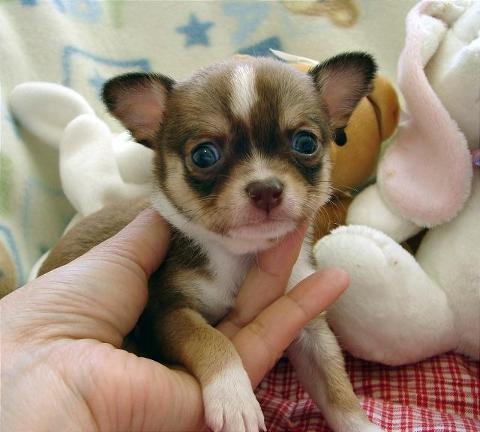 Another important piece of information to include is the price. To get an idea of the price, you may want to look at classified ads that feature puppies similar to yours and determine the going rate. You may also want to ask other breeders for their input. It is better to start at a higher amount and have potential buyers bargain with you, although you do not want to state a price so high that you scare them off.
Of course, you want buyers to be able to contact you, so include a phone number or two where you can be reached. You may also want to include an email address so you can correspond with buyers and send additional photos or information if requested.
Screening and evaluation
It is important to send the puppies to homes where you know they will be well-cared for. Just because someone has the money to buy a puppy does not mean that he or she would make a good dog owner. Responsible dog ownership requires a commitment, and you need to screen potential dog owners to determine if they are willing to make that commitment.
First, you should ask the potential dog owners why they want a dog and why they have chosen your specific breed. Have they done research on various breeds? They should be interested in a dog for much more than just their looks. They should be familiar with the dog's personality and behavior as well.
You should also determine if the owners have time for the dogs. Dogs can be high maintenance. They require walks, exercise, feeding, training, grooming, vet care and love. If a potential dog owner works long hours and is hardly ever home, then a dog may be too huge of a commitment.
Living environment is also a concern. A high-energy Labrador retriever may not be the right choice for a person who lives in an apartment. Some dogs need more exercise than others and may get bored and become destructive if they don't have enough space.
Does the family have children? If so, will the children help out with dog care duties? Some dogs are not friendly toward children, while others love them. If your puppies are well-socialized around children, that's great. If not, then you should alert potential dog buyers that the puppies should live in a home without children. You should also remind buyers that children should always be supervised around dogs.
Does anyone in the family have allergies? Pet allergies are common in many households. If there are already dogs in the home, then having another one in the home should be fine. However, if a buyer or someone in the home does have allergies and there are no dogs currently in the home, the family should be committed to keeping the home clean and free of dust so that the people and dog can co-exist. If the person's allergies worsen with the dog in the house, then the dog could end up without a home.
What to provide the new owners
You should provide the new owners with the AKC registration paperwork and explain how to complete it and fill it out. You should provide the puppies' health and vaccination records. If the parents have had health tests done, you should provide copies of the results. You should also provide feeding and care instructions for the puppies.
You should also draw up an agreement that both parties will need to sign. This agreement should list what the buyer is receiving and what the purchase of the puppy does and does not include. If you have a health guarantee or return policy, this should be also included in the contract, as should the purchase price.
You should also send the buyers home with your contact information in case the new owner has questions. Your responsibility as a breeder does not end when the puppies go home with their owners. You should be committed to your role as a breeder and be prepared to answer questions or handle issues as they come up.