So many choices exist on the market when shopping for the perfect dog crate for a dog. Dog owners will see that many materials are available such as metal, plastic and aluminum. One particular style of dog crate, which is proving popular with families that travel, is soft-sided dog crates.
It is of the utmost importance that families select the best crates for their dogs no matter the material chosen. There is such an abundance that many find it tedious to find the perfect dog crates for their dogs. The soft-sided dog crates have certain advantages that make them the right choice for many.
Advantages
What are these advantages? The benefit many like most is that they are portable and do not weigh a lot. They are easy to transport when traveling with one's dog. Metal crates can prove quite heavy and inconvenient when traveling. Plastic crates are bulky and take up a lot of space in a car or home. Soft-sided crates are the best choice when traveling with a dog because of the lightweight material which proves far easier to carry in comparison to other styles of dog crates.
With their mesh panels, these crates allow dogs great ventilation. The mesh panels also permit dog to view their surroundings, which can prove soothing to a dog while traveling. The mesh panels will allow the dog to keep an eye on its family, which is comforting. The lightweight materials of these soft-sided crates do not give the feeling of being trapped in a cage, instead; it gives the feeling of comfort which dogs enjoy.
Storage is not a problem with soft-sided crates. Due to the soft material of the crate, folding is easy, and they can be placed under a bed or anywhere else that is convenient to store them. The light weight works wonders for the arms if traveling long distances or when constantly having to move the crate. There is no comparing their weight to other types of dog crates.
Soft-sided crates are available in numerous colors. For the fashion savvy dog owner, a wide variety of trendy colors is available to choose from. This style of crate is most importantly safe for dogs with no hard wires or plastic for dogs to injure themselves on.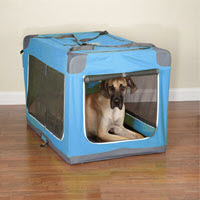 Disadvantages
However, a soft-sided crate is not going to be as sturdy as other materials. For this reason, they are used primarily for travel by some people. Still, they are constructed of strong materials and will hold for a long time with dogs that are not overly rowdy and intent on destruction.
Whatever the material, dog owners should ensure that the crate is appropriately sized for their dogs. A dog should be able to stand up, turn around as well as lie down in the crate. Dogs continually enjoy stretching their legs, and they should have the room to do so inside the dog crate. It is wise to measure one's dog before purchasing these crates. See how to properly measure a dog at dog crate size guide.