Because we love our dogs, caring for them can take a big bite out of everyone's wallet. Costs related to dog care have risen considerably in the past decade. It can cost anywhere from $16,800 to $48,000 over ten years, according to the American Pet Products Manufacturers Association. This may seem like a lot of money to the average dog owner. Fortunately, for those who are budget-conscious, there are many ways to save money on everyday dog care expenses.
Saving money on vet bills
Spay or neuter your dog. Although it will be an upfront expense, it will save you money in the long run. Licenses are cheaper for dogs that have been altered. Dogs that are not spayed or neutered are more likely to contract certain diseases, which can be costly to treat. Not only that, but your female dog can become pregnant, which means more vet and puppy care.
Inspect your dog on a weekly basis. Do a once-over, looking for any wounds, discharge, skin problems and anything else that looks out of the ordinary. This way, you can spot diseases in the early stages, which will save you money on vet bills.
Dog-proof your dog's common areas. If your dog comes in the house, inspect it as you would if you had a baby. Close cabinet doors and put away things that you do not want your dog to knock over or chew on. Put away objects that are small enough to be easily swallowed.
Save money on food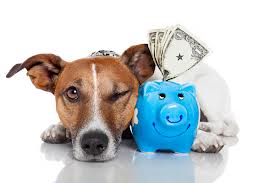 With dog food, you get what you pay for. Your dog may not benefit from the most expensive dog food in the pet store, but you certainly should not skimp on quality. Cheap food may make your dog sick, which again will amount to costly vet bills. Look for a dog food brand with a mid-range price. You can save money by buying in bulk. Many pet stores will offer a discount if you buy a minimum amount of dog food. You can also look for deals on bulk food online at sites such Amazon.com.
Forget buying treats at the pet store. They can be pricey and they don't last long. Save money by making your own treats. There are many recipes you can find online that use common ingredients. Dog Treat Kitchen (http://www.dogtreatkitchen.com/) has a variety of treat recipes that will leave your dog begging for more.
Save money on dog training
Professional training classes can cost hundreds of dollars. Rent training videos and books from your local library. Many TV channels air pet-related shows that feature training tips, and there are plenty of free videos online.
Save money on toys
No need to buy expensive pet store toys. Your dog is likely to destroy the $20 toy you bought just seconds after you bring it home anyway. Instead, be frugal and look for toys around the house. Old tennis balls and sticks will work just fine, and your dog may enjoy them more than the fancy store-bought toys with all the bells and whistles.
Dogs love to chew, and it helps their teeth. Rawhide sticks and other chew bones can be readily found at your local pet store, but they can be costly. To save money, ask the butcher at your local supermarket for raw bones. Pork or beef neck bones are fairly inexpensive ($1-2 per bone) and they are healthy for your dog.
Save money on medications
Flea and heartworm prevention medications are much more expensive if bought directly from your veterinarian. Comparison shop and you will likely find a better deal elsewhere. 1-800-PetMeds is an online retailer that offers many pet products for low prices. If your dog needs other types of medications, such as for an infection, look for a generic form to cut costs.
Following these tips will keep your dog happy and healthy without breaking the bank.