Dog crates provide many advantages to both dog and owner. For example, house training a dog is oftentimes easier when a dog crate is available, and they are a must when transporting a pet.  For those with special needs, custom dog crates can be made specifically for a type of vehicle, purpose or breed of dog. These crates are specially designed for everyone from sled dog owners to those looking for just the right design for their home.
Custom aluminum crates
These special dog crates are usually made of aluminum or wood. Many companies that build aluminum custom dog crates specially design them for police K-9 units, and those who often transport many dogs for hunting or other purposes. These crates are typically custom made to hold more than one dog or to fit in a specific type of vehicle, to include SUVs, trucks or mini-vans.
Specialty aluminum crates are generally built with slatted, ventilated doors, and some are made with drawers in order to hold food, treats, toys, water dishes and other accessories. The idea of custom dog crates is that they are made to the dog owner's specifications for the type of dog and vehicle the owner has. If choosing an aluminum custom crate for a vehicle, ensure the kennel has appropriate air vents and lockable doors. Some aluminum crates even feature a rear escape panel, which can come in very handy in case of an emergency.
The following companies specialize primarily in custom aluminum crates:
Custom wooden crates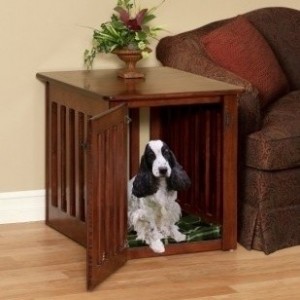 Handcrafted, wood dog crates are most often seen inside homes, providing the secure sanctuary a dog needs while also providing a stylishness that metal crates cannot. More like a piece of furniture than a plastic or metal crate can appear, wooden custom dog crates are generally made of hardwood and are stained in various colors to match a home's décor. These durable dog kennels can also feature pullout drawers to accommodate dog crate accessories. If ordering a wooden crate built, make sure the dog is not a chewer – paint, stain and wood can cause significant heath problems if ingested. Making sure dogs have toys or treats to keep them occupied while inside crates can help prevent this.
Dog crate furniture covers some crates offered on Amazon that will look good in any home.
Dog crate goals and sizing
After the goals and materials of the crate are taken into account, be it an aluminum dog crate for your vehicle or a wooden sanctuary for a home, it is also very important to ensure the size the crate is appropriate for its breed and dog. According to vets and other experts, your dog should be able to stand, lie down, or sit in any position inside the crate with limited restriction. The crate should be roomy enough to accommodate a water bowl, blanket and other accessories. Use this dog crate size guide to find just the right one.
Although they are going to cost more than a regular crate, custom dog crates are the way to go for those with stylish home furnishings who don't want a plastic, metal or wire kennel in their living room or bedroom, and they are sometimes required for those traveling, hunting or doing other special activities with their dogs.