Once upon a time, a dog kennel or crate was a functional, but ugly and necessary enclosure for your dog. However, times have changed. Now, a dog crate can be a beautiful piece of furniture, which adds elegance to the décor of any home.
Prices range from perhaps $50.00 to as much as $500.00 depending on the make, model, construction material, size, and durability of the crate. There is a wide range of choices between those two ends of the spectrum, and innovative designs are available even in lower-priced models and with varieties of material. Most designs offer full ventilation and easy-to-clean slide out trays. Some come with divider panels within the crate which can be removed as your puppy grows.
Wooden dog crates
Wooden crates come in a variety of designs and are constructed of all wood or a combination of wood and metal. Dog crate furniture is designed to fulfill dull purposes and can save space by doubling as end tables and other furnishings in your home. Decorative dog crates built of wood are made of hardwoods like maple, ash, and oak. They are usually constructed with slats on the sides for ventilation and visibility. Some models combine wood with steel to ensure strength and durability. They have different types of gate openings, some from the front, and some from the side, depending on the crate design.
Portable dog crates
Lightweight decorative dog crates are used for travel and provide a portable crate that is easy to lift in and out of a car or home. These crates (see portable dog crates) are usually made with a steel frame covered in a strong canvas or mesh cloth. The majority of these cloth crates have netting in strategic places throughout the design to provide adequate ventilation for your dog. There are even some crates shaped like "pup tents" for those who take their pets with them when they go camping.
Colored models and crate designs of molded polyethylene have become more available over the past few years. These crates are lightweight with smooth corners, and can double as outdoor furniture on patios and decks. Some models resemble a child's playpen or a little fenced pen, which can be very useful for containing a small dog when the weather is too warm for a crate with a top attached. They are extremely durable, can be broken down just like regular steel-sided crates, and provide an easy to clean option for your dog's special place.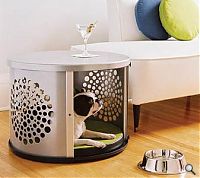 Wicker dog crates
Wicker dog crates, while costlier than other serviceable models, are quickly becoming one of the most popular decorative dog crates on the market. All wicker crates are fashioned from imitation wicker to ensure your dog's safety. As with most dog crates, the wicker model can be easily cleaned. It is many times more attractive on the outside than standard wire dog cages. Wicker crates come in different price ranges, depending on the workmanship. A disadvantage of wicker, however, is that your dog might choose to chew on the sides of the crate. This has been dealt with by some manufacturers who provide fitted glass or plastic panels that fit inside the crate to protect the wicker and still provide visibility for the animal.
Custom dog crates
For those with tastes that nobody else can fill, custom dog crates may be the way to go. Although these are generally designed for special needs, custom crates are often ordered to meet specific aesthetic senses.
The key to making the right decision for a decorative dog crate for your home is to consider your dog's size and needs (see dog crate size guide), as well as your own preferences and décor. Explore your options on the internet as well as in local pet supply stores in your neighborhood. The more informed you are about what products are available; the more satisfied you will be with your final choice.